Custom Interior Landscape Design Project-
Corporate Office, Torrance, CA
For this commercial interior landscape project we were asked to create a custom interior landscape design, for a special one of a kind built-in planter.
Tropical waterfall within a corporate building
Plants were carefully selected for size, color, and texture in order to assure that the plants blended with the stream and waterfall creating the feel of a minature Hawaiian rain-forest.
The stream and plants were installed in the custom planter creating the desired natural scene. The sound of a stream echoes thru the seating area.
The Project Brief
The project brief called for a tropical Hawaiian scene, with plants lining a running stream, and waterfall, to create a relaxing and inviting atmosphere for a corporate office seating area with an outdoor feel.
This project was to be installed on an upper floor, that being the case avoiding potential leakage was of utmost importance.
To further mitigate any potential of water leakage, the custom planter was metal lined and water-proofed, to a depth that could contain all of the water held in the system.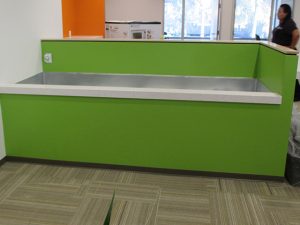 Unique Plant Rentals was tasked with finding a natural looking waterfall and stream that was not made of real rock.
Working with the architect, designer, and owner, a self-contained small waterfall and stream was selected for the project's water feature. This fiberglass waterfall system fulfilled both the needs of containing the water, with a lighter weight and the natural look of a waterfall and stream constructed of real rock.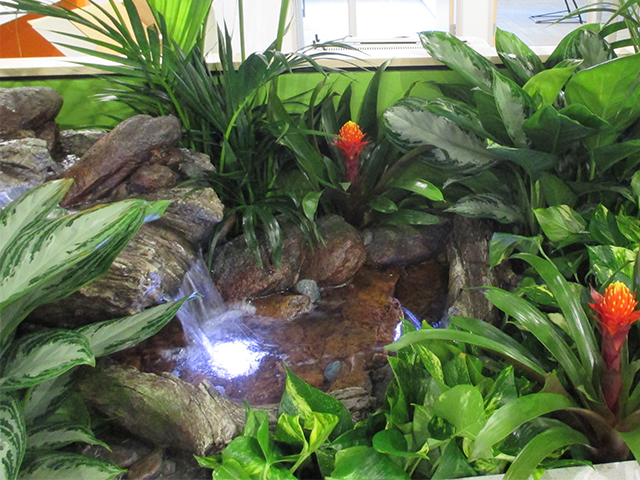 If you are interested in having a tropical stream in your building give us a call.
Unique Plant Rentals Inc.
1-310-523-1013
Providing indoor landscape throughout Los Angeles since 1967.