Community Service Project – Interior Landscape – Berkeley,CA
A letter from Ken CEO, of Unique Plant Rentals Inc.
This was a community service project that was done in Berkeley, CA. While visiting this facility with a youth group we saw a great atrium that was basically dead. All the plants were dead or dying and full of bugs. The facility is a non-profit religious study and education center. It was an old Chevrolet dealership and historical building that was renovated.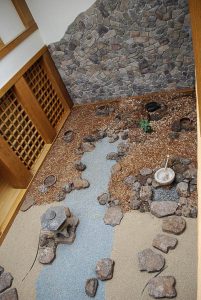 I had met the facilities person who gave us a tour and shared the buildings history. Later I returned again for another visit and offered to the facility person to redo the plants for them free of charge. I enlisted the help of the youth groups and their church leaders from the previous visit.
We had the plants delivered from our plant suppliers to the site. The old plants were removed and the area cleaned up and redone with new plants. Plants selection was based on the aesthetics of the area as well as plant types that would be durable enough to handle the warm high light environment. The project took about a day. The youth developed a new attachment to what can be done through detail, plant selection, size, shape, and colors.
They have a new appreciation of the effect plants have and also have the pride of knowing they had gotten their hands dirty and achieved something great!
The photos below show before, during, and after images of the new indoor plant installation performed as a community project.